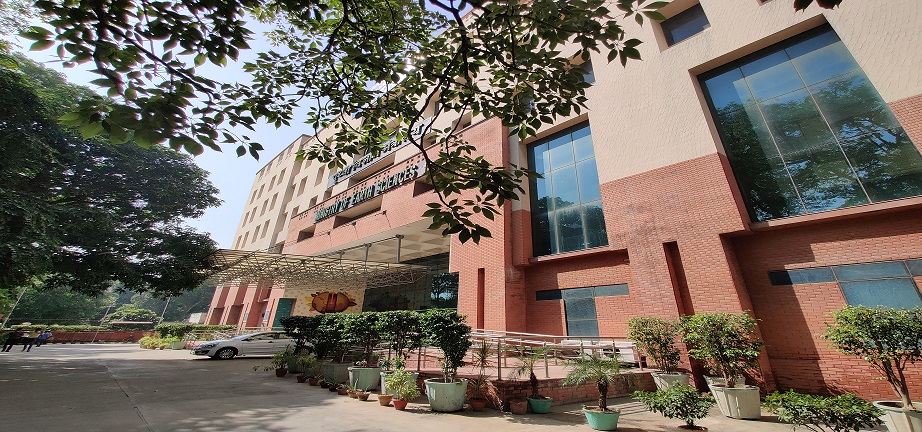 The Ministry of Earth Sciences (MoES), under the Government of India, is mandated to provide services for weather, climate, ocean and coastal state, hydrology, seismology, and natural hazards; to explore and harness marine living and non-living resources in a sustainable manner for the country and to explore the three poles of the Earth (Arctic, Antarctic and Himalayas).
MoES was formerly the Department of Ocean Development (DOD), which was created in July 1981 as a part of the Cabinet Secretariat directly under the charge of the Prime Minister of India. It came into existence as a separate department in March 1982. The erstwhile DOD functioned as a nodal institution for organizing, coordinating and promoting ocean development activities in the country. The Government of India notified DOD as the Ministry of Ocean Development in February 2006.
In July 2006, the Ministry of Ocean Development was reorganized by the Government of India vide Presidential notification into the new Ministry of Earth Sciences (MoES). This brought the Indian Meteorological Department (IMD), Delhi, the Indian Institute of Tropical Meteorology (IITM), Pune, and National Centre for Medium Range Weather Forecasting (NCMRWF), Noida under the purview of MoES administration. The Government also approved the setting up of Earth Commission on the pattern of Space Commission (government department responsible for administration of the Indian space program) and Atomic Energy Commission (governing body of the Department of Atomic Energy).
Contact Details of MoES Headquarters
Headquarters
Ministry of Earth Sciences, Government of India
Prithvi Bhawan, Lodhi Road
New Delhi 110003
website: www.moes.gov.in
Contact details of Attached, Subordinate Offices and Autonomous Bodies
Contact details of Attached Offices
Centre for Marine Living Resources and Ecology (CMLRE)
Atal Bhavan, LNG Road
Puthuvypin South, Ochanthuruthu PO, Kochi
Kerala 682508
website: www.cmlre.gov.in

National Center for Seismology (NCS)
IMD Campus, Mausam Bhawan
Lodhi Road, New Delhi 110003
website: www.seismo.gov.in

National Centre for Coastal Research (NCCR)
NIOT Campus, Vellacherry Thambaram Road
Pallikaranai Village, Chennai
Tamil Nadu 600100
website: www.nccr.gov.in
 
Contact details of Subordinate Offices
Subordinate Offices
India Meteorological Department (IMD)
Mausam Bhawan, Lodhi Road
New Delhi 110003
Website: https://mausam.imd.gov.in/
National Centre for Medium Range Weather Forecasting (NCMRWF)
A 50, Industrial Area, Phase II
Sector 62, Noida
Uttar Pradesh 201307
Website: www.ncmrwf.gov.in
Contact details of Autonomous Bodies
Autonomous Bodies
National Institute of Ocean Technology (NIOT)
Vellacherry Thambaram Road
Pallikaranai Village, Chennai
Tamil Nadu 600 100
Website: www.niot.res.in
National Centre for Polar and Ocean Research (NCPOR)
Headland Sada, Vasco da Gama
Goa 403804
Website: www.ncpor.gov.in
Indian National Centre for Ocean Information Service (INCOIS)
Ocean Valley, Pragathi Nagar
BO Nizampet, PO Hyderabad
Telangana 500055
Website : www.incois.gov.in
Indian Institute of Tropical Meteorology (IITM)
Homi Bhabha Road, Pashan, Pune
Maharashtra 411008
Website : www.tropmet.res.in
National Centre for Earth Science Studies (NCESS)
Post Box No 7250, Akkulam
Thiruvananthapuram
Kerala 695011
Website : www.ncess.gov.in